Thread Ring Gages - 2-64 - Inch - Chrome - SET - X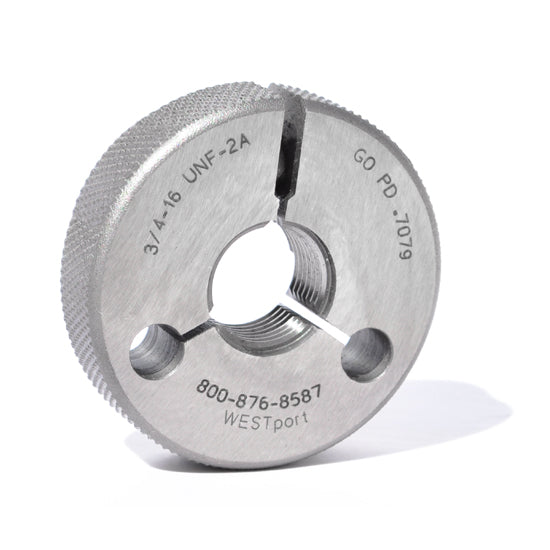 Thread ring gages are adjustable and used to measure threads on an outside diameter (OD) to ensure the threads are within its designed tolerance limits. The thread ring gage is a one piece construction with a single setting adjustment feature, manufactured to an X tolerance and American Gage Design standards (AGD).

Thread ring gages are root relieved for longer life and more accurate gaging. The ring gages are manufactured with a root clearance in the major diameter which eliminates the possibility of interference from the full form section of the thread setting plug and major diameter of the part being gaged. This feature assures that the thread flanks are making proper contact.

Available in GO or NOGO, Class 2A or 3A for inch and to X tolerance, class 6g for metric. Thread ring gage class and tolerances conform to ASME/ANSI B1.2, ANSI B1.16M Gage Standard and/or H28 Handbook. All thread inserts are made of an oil hardening graphitic tool steel and are ring lapped and hand polished to ensure maximum wearability. Class W or UNJ threads quoted upon request. Adjustable thread ring gages are available in steel or chrome.

Measures threads on an outside diameter (OD) to ensure the threads are within its designed tolerance limits
Thread ring gage is a one piece construction with a single setting adjustment feature
Thread ring gages are root relieved providing longer life and superior gaging accuracy
GO or NOGO members
Class 2A or 3A for inch
X tolerance, class 6g for metric
ASME/ANSI B1.2 and ANSI B1.16M compliant
Thread ring gages are precision hand lapped and polished to ensure superior accuracy
Manufactured to the highest end of the ANSI specifications to ensure maximum wearability
Final inspection of gages is completed in an environmentally controlled ISO 17025 laboratory
Available in steel or chrome
Free NIST certificate of accuracy
| | |
| --- | --- |
| part | TRC-05 |
| member | SET |
| size | 2-64 |
| Measure | Inch |
| material | Chrome |
| Tolerance | X |