Rockwell Diamond Indenter Without Certification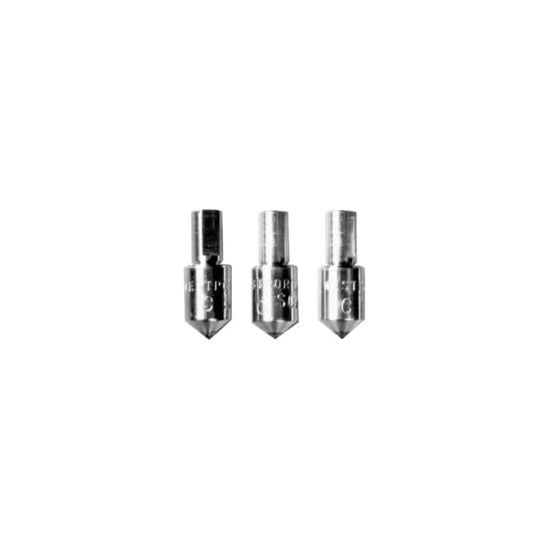 Rockwell "Long Life" diamond indenters and ball penetrators are calibrated to meet and exceed American and International standards in our ISO/ IEC 17025 accredited laboratory.

It is critical to have a precise and accurate indenter configuration for reliable and dependable Rockwell® hardness testing. A minor deviation in the form of flats, peaks or poor surface finish from the true contour (120˚ including angle, 0.2 mm radius) will result in inaccurate and unreliable hardness readings. At WESTport, the utmost care is taken in every step of manufacturing our long life diamond indenters to provide you with precision readings each and every hardness test.

To minimize diamond breakage, we use only the highest quality industrial diamonds. Each rockwell diamond indenter is ground, lapped and hand polished to control the conical angle to 120√Ç° √Ǭ±0.35√Ç°. In order to prevent shift under test loads, the diamond is precisely positioned and then sintered in place. All rockwell diamond indenters are performance-tested on a master Rockwell hardness tester in our environmentally controlled ISO 17025 standardizing laboratory. The indenters are then compared to a 0-0 master indenter within a tight tolerance established by the WESTport Hardness Testing Standards Laboratory.

To accommodate special hardness testing needs, rockwell diamond indenters are manufactured in several different diamond mounting configurations. Although the diamond dimensions never change, the design of the mount may limit the load that can be applied. I.E. Carbide diamond indenters are limited to a maximum load of 60 kgf.

Indenters identified by C or A indicates that the indenter has been performance tested at the specific scale associated with the rockwell scale the letter identifies. Indenters marked √¢'ǨÀúN√¢'Ǩ'Ñ¢ indicate that it is used for superficial testing only with loads up to and including 45 kgf N. Rockwell diamond indenters identified for √¢'ǨÀúhigh temperature use√¢'Ǩ'Ñ¢ have bodies made from Tungsten carbide steel and are manufactured to withstand temperatures up to 1500√Ç°F . They are available in A, C and N scales. High temperature diamond indenters must be used in a non-oxygen atmosphere.


| | |
| --- | --- |
| part | Rockwell Diamond without |
| blockTable | cert |
| paritalName | indenters |