Fowler - Square Gage Block Set - Inch - Steel - 81 - AS1 - Square - Square Steel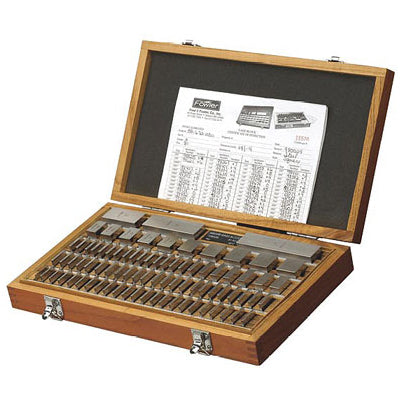 Fowler Square Steel Gage Block Sets are manufactured to the same high precision and from the same special steel used in our rectangular sets and conform to ASME B89.1.9-2002

Features:

Sets supplied with certificate of inspection showing deviation for each block.
All Gage Block Sets include certifications of calibration traceable to the National Institute of Standards and Technology.
Gage Block Sets are made to special standards to resist corrosion & defacement and are coated when calibrated at the time of final inspection for protection from moisture and foreign matter.
Surface finish .4 millionths.
Includes fitted case.
Set Includes: 81 pcs. in wood case.
Consists of:
9 Blocks .1001 Inch thru .1009 Inch step of .0001 Inch
49 Blocks .101 Inch thru .149 Inch step of .001 Inch
19 Blocks .050 Inch thru .950 Inch step of .050 Inch
4 Blocks 1.000 Inch thru 4.000 Inch step of 1.000 Inch
| | |
| --- | --- |
| part | 53-672-030 |
| Set of: | 81 |
| Measure | Inch |
| material | Steel |
| grade | AS1 |
| shape | Square |
| typeGageBlock | Square Steel |